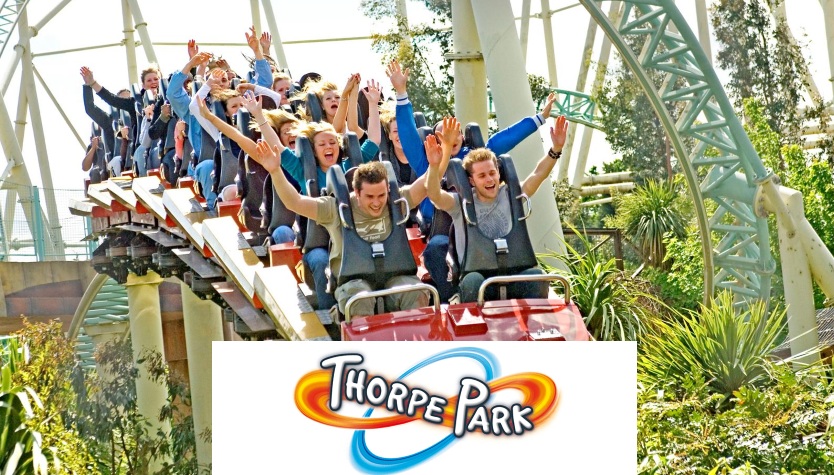 Thorpe Park NHS Discount
Thorpe Park is a theme park located Chertsey, England.
The resort has 29 rides for all the family to enjoy, from scary rides such as Saw, thrill seeking rides like Colossus, and family rides such as the Flying Fish.
The resort offers filters online to present the types of rides that the smallest member, and the tallest, can ride. Plan ahead to avoid any upset little ones. Using the filer tool, customers can view water rides, height restricted rides, thrill rides, and fast track availability.
Thorpe Park day tickets cost between £30-£50, but are typically cheaper when bought 5+ days before attending and online. Customers are also able to purchase an 1 Day Combi ticket which includes fast track on selected rides.
The resort also offer an Annual Pass for those who keep returning, costing from £109, which also gives discounted entry for friends, discounted stays at the Shark Hotel, and up to 20% off food, drink, and retail.
At the resort there are 7 stores to spend your money in.
Thorpe Park and NHS Students
If you are a Student nurse then you could save even more money by getting your tickets direct from their website. You can save £35 off the entry fee and get the following benefits:
One Day entry ticket with a special student price
Get access to all rides and attractions
Collect your ticket after purchase using your student ID.
How do I use my NHS Discount at Thorpe Park?
At Thorpe Park, customers can enjoy the fun for 2 days, now that the 2nd day is FREE.
Customers can stay at the Thorpe Shark Hotel, offering themed rooms and restaurants to extend an amazing thrill seeking day, or they can stay at one of the partner hotels, just minutes from the resort.
Everyone loves a bit of thrill seeking fun, that's why Thorpe Park offer a Season Pass Gift Card, unlocking a whole season of fun at the resort for only £55 (the same price as a day ticket).
Thorpe Park offer an app which can be downloaded in the App Store or using Google Play. The app permits customers to view a map of the park, queuing times for the rides, offers, park information, and it allows customers to book tickets.
What Facilities are onsite?
The theme park provides disabled facilities to their customers, including parking, a free helper ticket, ride access passes, a ride access guide, toilets, and wheelchair hire. For more information about the facilities the park possess, check out their website.
Need to ask a question about the hotel or resort? Why not check out the resorts FAQs on their website, or contact them using their social media platforms, or phone number.
Sign up to be the first to hear about Thorpe Parks events! Or follow them on their social media sites Facebook, Twitter, Snapchat, and YouTube. Customers can either check out the resorts blog highlighting their latest events, competitions, and job offers.