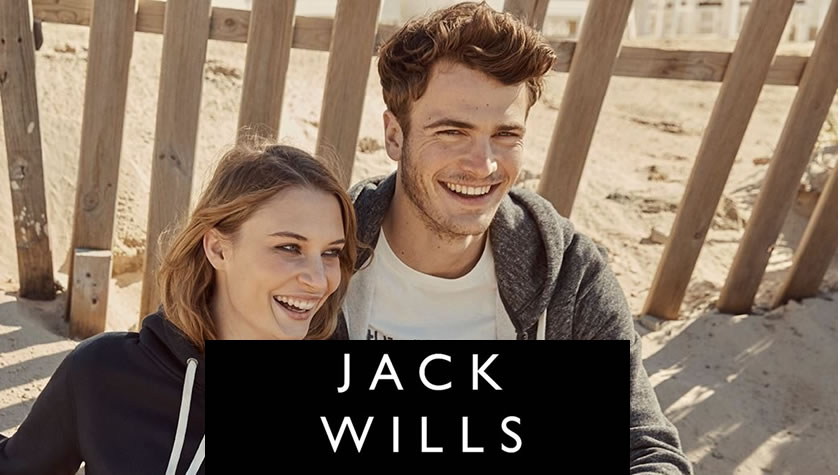 Jack Wills NHS Discount
Jack Wills is a British clothing brand founded in 1999.
Jack Wills offers clothing to both men and women offering items such as jackets, tops, jumpers, shorts, swimwear, gym wear, loungewear, dresses, and accessories.The size range for men is XS-XXL and the size range for women is 4-16. Customers can shop by offers, recipient, or gifts. Jack Wills even provides inspiration through their blog; providing styling tips, and new season trends.
Jack Wills provides gift cards that can be purchased instore and load the value of up to £300.
Customers have the choice to collect their goods instore or have them delivered to the home. The choice of delivery and collection are as follows:
·         UK standard delivery costs £3.95, FREE on orders over £60, and can be expected in 3-5 working days.
·         UK next day delivery costs £5.95.
·         Click and collect instore for FREE and expected within 1-5 working days.
When an item is faulty or no longer wanted, customers can return their item in its original packaging within 28 days of purchase. Returns can be arranged to be picked up from the home or be processed instore.
Does Jack Wills do NHS Discount
When a query needs to be made, customers can view the retailers online FAQ section, in the hopes to get an answer for their simple question. When an answer is a little harder to find, customers can contact Jack Wills, by post, instore, e-mail, live chat, or by telephone. Or customers can share their feedback with Jack Wills, showing the retailer what they did right and how they could improve!
By making an account with Jack Wills, customers can checkout faster every time, get exclusive offers, and manager orders and invoices online.
Jack Wills accept payments from Visa, Mastercard, and PayPal.
Don't know where your local store is? Customers can find their local store by using the Store Locator tool on the Jack Wills website.