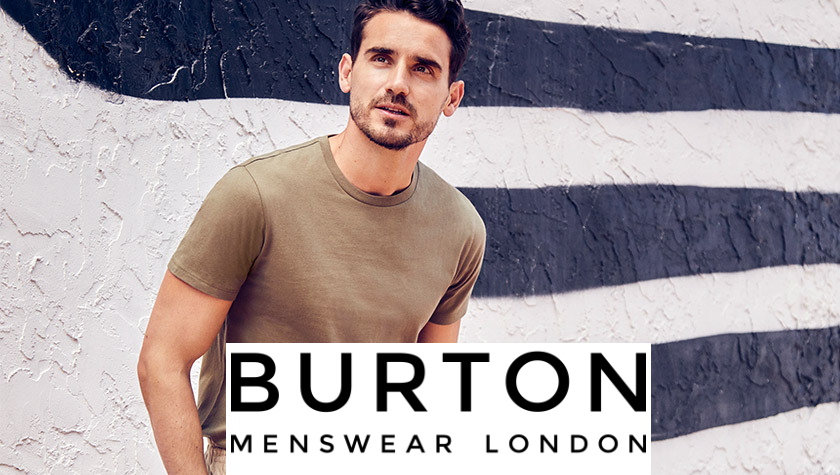 Burtons NHS Discount
Burton.co.uk is offering 20% Discount for NHS staff when you use our discount code online. Just click on the link below to get yoiur unique NHS discount code.

20% Discount at Burtons

Get your unique discount code to be used at the Burtons website. Giving you 20% off your purchase.
What Can Burtons offer you?
We all like to look smart and tidy so why not pay a visit to Burton's and get some new clobber!

I'm sure you'll agree Burton's are pretty much well known amongst shopping for the other half – they offer items such as jackets, tops, jumpers, shorts, swimwear, gym wear, loungewear,suits,shoes and accessories.

The size range being XXS-5XL – from small to beefcake! Clothing can be browsed by item, offers, or collection such as big and tall, muscle fit, Burton supports, or the holiday shop.
There's also the very useful Burton  gift cards that can be purchased instore and load the value of up to £300 – which is great for a birthday or a Christmas prezzie!
The retailer has their own app that can be downloaded from the App Store or Google Play. The app allows customers to shop using their phone or tablet, receive notifications on new deals or products, and have easy access to their previous orders.
Burtons NHS Discount Code
Customers have the choice to collect their goods instore or have them delivered to the home. The choice of delivery and collection are as follows:
·         UK standard delivery costs £3.95, FREE on orders over £30, and can be expected in 4 working days.
·         UK next day delivery costs £5.95, orders must be made before 9pm on weekdays and 5pn on Sundays.
·         Instore collection is FREE and can be expected within 3-7 working days.
·         Next day collection costs £2.95 when ordered before 12pm.
When an item is faulty or no longer wanted, customers can return their item in its original packaging within 28 days of purchase. Returns can be arranged to be picked up from the home or be processed instore.
Burton NHS Discount Online
When a query needs to be made, customers can view the retailers online FAQ section, in the hopes to get an answer for their simple question. When an answer is a little harder to find, customers can contact Burton, by post, instore, e-mail, live chat, or by telephone. Or customers can share their feedback with Burton, showing the retailer what they did right and how they could improve!
By making an account withBurton, customers can checkout faster every time, get exclusive offers, and manager orders and invoices online. By signing up, customers can receive 15% of their first order.
Burtonaccept payments from Visa, Mastercard, and PayPal.
Don't know where your local store is? Customers can find their local store by using the Store Locator tool on the Burton website.
To keep up with their latest news and offers, you can followBurton on their social media platforms; Facebook, Twitter, and Instagram. Or customers can sign up to their newsletter.